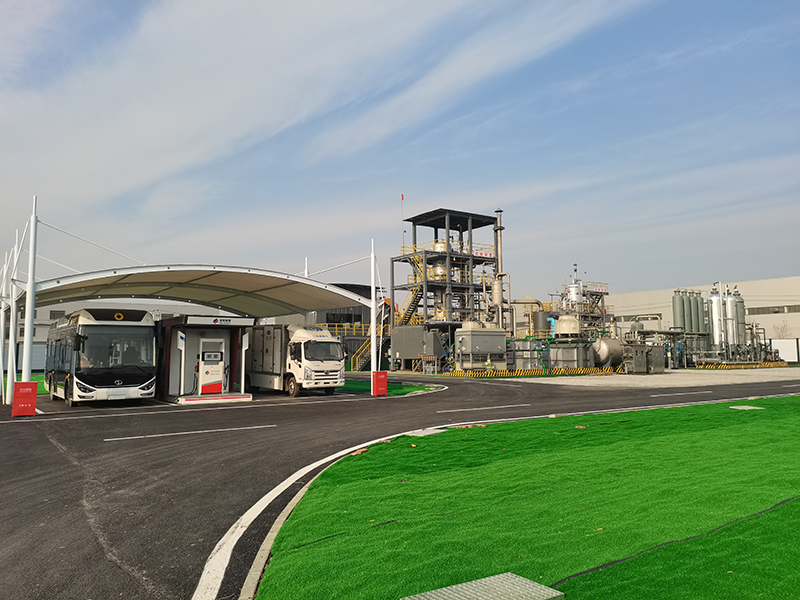 In response to the call of the national goal of "Carbon Peaking and Carbon Neutralization", after years of research and development by Hynertech and Wuhuan Engineering company of China Chemical Group, the high-temperature waste to hydrogen oil conversion system ushered in the feeding demonstration operation on December 11, 2021 after a period of stable trial operation. The demonstration site, located in the industrial park of Zhongguancun emerging industry Frontier Technology Research Institute, Fangshan District, Beijing, was jointly constructed by China National Chemical Engineering Sixth Construction Co., Ltd.
The project comprehensively demonstrated how to take advantage of urban resource recycling in the whole hydrogen industrial chain. Firstly, hydrogen is produced from municipal waste at high temperature. Secondly, hydrogen is added to liquid organic hydrogen carrier (LOHC) to produce hydrogen oil. Thirdly, hydrogen refueling stations are built to supply hydrogen oil. Finally, hydrogen fuel cell buses, logistics vehicles, and distributed cogeneration devices, etc. are powered by hydrogen oil.
The technologies can be successfully applied,which means that the harmless dealing of urban solid wastes are able to be utilized to provide safe and convenient hydrogen to the society. And it provides a new way for urban green energy utilization, and marked urban hydrogen energy utilization enters practical stage.
Want to know more?
‍.
Eager to pay a visit? Phone us () or